Conference Incentives to organise a conference or event in Ireland…….
So Gabriel Byrne has put us in it. Negative press generated on an initiative that should only be good and help promote the country. It has got us talking I suppose and hopefully America. I am coming at it from a "positive" perspective and the benefits of organising a conference in 2013.
What incentives are out there to organise a conference in Ireland ??– quite a few actually – in addition to the Fáilte Ireland fund, the Gathering Ireland Conference fund has been announced.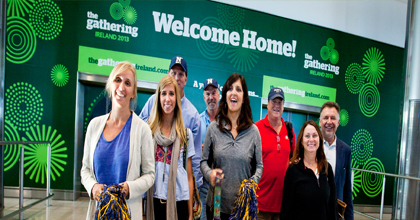 The Gathering Ireland Fund- The summary – €2 million IPB Gathering Ireland Fund is being administered by local authorities to support events and gatherings that have the capacity to attract overseas visitors.
How it is divided –
1. €25,000 to €60,000 to support 3 flagship events in each county council area.
2. €500 to €2500 grant amounts available to other local and community events in each county council area. Both have to go through a short application process.
The Fund Scale – The bottom line is the more overseas visitors the more funding……
Fund Amount €                   Min Numbers of Overseas Visitors required
€500                                      10
€1000                                    20
€1500                                    30
€2000                                     40
€2500                                     50
What will help get approval?-–
A clear plan on how the overseas market will be attracted must be in place.
Have the capability to promote it and get media coverage.
The event must be uploaded to the Gathering website - create the event here.
Be a new event, not one planned a few years back.
What types of "Gathering" will be funded?
The key criteria is the ability of the event to attract overseas visitors.
Priority is also given to the Gatherings that have emerged from the Gathering Ireland Community Meeting Process – idea generation meetings that have taken place over the last few months.
There are also some great Promotional Materials available.
How to apply–
Fill out the application form and upload the event to the Gathering Ireland website.  Email me if you need this form, it is hard to find on The Gathering website!!  info (at) findaconferencevenue.com
When is it paid? Half on approval, half after the event has taken place and evidence shown it has taken place, listing of overseas attendees and country of origin, Receipts and full costs.
Deadline- November 30th, 2012 Funds awarded on Dec 14th.
Feel free to contact  me for more information or if you need assistance in finding the right venue for The Event or Gathering.